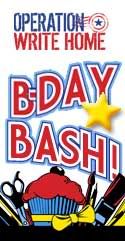 We have an exciting new challenge over at Dutch dare.
We are joining in the birthday celebrations of operation write home.
Here's a bit more about this fantastic organization:(I copied this from
Kelly
!)
Operation Write Home is an organization that sends blank handmade greeting cards for all occasions to deployed service members to write home on. They've mailed approximately 500,000 cards so far—and are still going strong! Our challenge to you is to make cards to send to them for our nation's heroes.
Please read the basic guidelines
here;
it's important especially to remember that glitter is NOT allowed (it's a safety hazard to our heroes), handmade cards only, and OWH needs A2 sized cards. "Operation Write Home" needs to be on the backs of your cards—it can be stamped, handwritten, or printed on labels. Please include a
packing slip
inside your box or envelope, and mail them to any of their shippers listed on the
Mailroom page
.
So,i made a christmas card.It was so hard not to put glitter on it.I tried to keep it simple,with not too many embellishments on there.
Papers are papermania,distressed with dusty concorde.
Image:-LOTV,coloured with pencils.
Snowflakes:-Matalan in the sale last year.
Punch:-Was out of a set from create and craft.
The girls have made fabulous cards,i hope you can join in with us at
DDCC
for this fab challenge.
I hope you like it.Thanks for looking.
Kelly.